We offer a range of phonics activities for all learning styles. You will find printable phonics worksheets by grade, phonics games online, lesson videos, phonics listening activities, phonics stories, PPT lessons, printable phonics flashcards, board games, phonics songs, assessments and teaching guide. You will never run out of resources to teach phonics. Kiz Phonics is the one-stop shop for all your phonics needs. Teach kids to read with phonics - for Preschoolers, Kindergarteners, First and Second Graders learning to read.
Phonics Activities for Classroom Teaching & Homeschooling
Phonics Worksheets by Level

You will find our phonics worksheets for teaching reading through phonics by following the links below.
 Phonics Games by Level
You will find our phonics games for teaching reading through phonics by following the links below.
Phonics Video Tutorials

You will find our phonics video tutorials for teaching the different phonemes. Follow the links below.
Listening Materials for Worksheets

You will find our phonics listening materials to go with the worksheets by following the links below.
Phonics Flashcards

You will find our phonics grapheme and phoneme flashcards for teaching, by following the links below.
Board Game & Playing Card Sets

We feature a board game and its card sets arranged by the different levels. Learn How to Play.
Phonics Songs

Teach phonics through songs. The Kiz Phonics ® songs are catchy and help learners master the key phonemes of our course. There are songs on short and long vowels, r-controlled vowels, blends and digraphs.

Phonics Stories

At Kiz Phonics, we offer decodable short stories for helping kids learn to read. Our stories build confidence in reading full sentences and chunks of text. The stories make use of word families and sight words.

Word Families Games


Kiz Phonics offers word families games that are perfect for reviewing word blends. These interactive games will help learners review a wide variety of word chunks under each vowel. The games complement the lesson videos and printable activities well.

PowerPoint / PPTs

Teach phonics through powerpoint lessons. The Kiz Phonics ® ppts are excellent resource for teachers and parents to teach phonics at different levels.

Assessments

At Kiz Phonics, we offer phonics assessment tests for different levels. Tests comes with easy to follow instructions.

Teaching Guide


Kiz Phonics® has printable lesson plans for each level. Teachers / parents can download and follow the teaching guide.

This page was set up so that you can easily find our phonics resources by type. Find Materials for Teaching Reading through Phonics, You will Find Phonics Worksheets, Games, Video Tutorials, Listening by Levels Pre-K, Kindergarten, First Grade and Second Grade, Phonics Flashcards, Grapheme Cards, Phonics Board Game with Game Card Sets, Phonemes Cards, Sentence Card and more.

 Register Now to Unlock the Full Wealth of this Site.
Mastering the Art of Reading Through Phonics
The Ultimate Guide to Phonics-Based Learning for Children
The ability to read is a critical milestone in every child's academic journey. Reading is not just a skill; it's an empowerment that enables children to navigate the world around them. One of the most proven methods for teaching children to read is through the phonics method. In this comprehensive guide, we'll explore what phonics is, its benefits, and how you can effectively implement it to set the stage for your child's lifelong learning.
What is Phonics? - A Brief Phonics Definition
Before diving into the methodology, it's crucial to understand what phonics is. Phonics is an educational approach that focuses on teaching the relationships between sounds and their corresponding symbols (letters). The method empowers children to decode unfamiliar words, providing them with a robust framework for understanding language structure.
Why Phonics for Kids is Essential
The value of using phonics for kids is immense. Some benefits include:
Building a strong vocabulary.
Enhancing spelling abilities.
Developing reading fluency.
Improving reading comprehension.
In short, phonics provides a strong foundation that helps children decode the world of words.
Decoding the Phonics Alphabet
At the core of phonics is the phonics alphabet, where each letter or group of letters corresponds to a specific sound (phoneme). Children begin by learning the alphabet letters and their sounds, establishing the building blocks for more complex words.
Phonics Curriculum - What to Include?
A well-designed phonics curriculum should be holistic and engage children in various activities:
Sound Charts: These are visual aids that help in associating sounds with letters or letter groups.
Phonics Worksheets: These reinforce learning and provide practice in writing and recognizing words.
Phonics Rules: Understanding these rules, such as silent 'e' or double consonants, can make decoding easier.
Kindergarten Worksheets: Tailored for younger learners, these sheets offer basic practice exercises.
For comprehensive materials that cover all these aspects, be sure to visit Kiz Phonics Educational Materials.
Music to Ears - Phonics Songs and ABC Songs
Utilizing the power of music through phonics songs and ABC songs can make learning engaging and fun. These songs emphasize the sound each letter makes, serving as a mnemonic device that aids memory and recall.
Kiz Phonics vs. Hooked on Phonics – How are they different?
You might have heard of 'Hooked on Phonics,' a set of educational materials that use the phonics method. These materials have received widespread acclaim for effectively teaching children to read by using various interactive resources. So too, Kiz Phonics has been widely regarded as delivering effective early literacy skills in children. Its secret sauce is the varied set of resources that caters to all learning styles and offers something for every educator. How is this possible? Kiz Phonics is basically developed from our collection of over 25 years of materials applied in classrooms and shown to work, period! We've happily taken millions of kids from zero reading to fluency.
Phonics Games for Learning and Fun
Learning should never be tedious. Phonics games add an element of fun to the educational process. Games like matching sounds to letters or building words from syllables make learning interactive and enjoyable. There are also specialized phonics games for kindergarten to engage younger learners.
Phonics Teaching Strategies
Phonics teaching is not a one-size-fits-all approach. Adapt your strategies based on your child's needs. Whether you use phonics games, songs, or worksheets, be responsive to your child's pace of learning.
The Power of Phonics Worksheets
Phonics worksheets serve as a tool for practice and evaluation. From matching exercises to writing tasks, these sheets provide children with various ways to practice what they have learned.
Phonics Rules - The Backbone of Reading
Understanding the basic phonics rules helps children decode words efficiently. From vowel sounds to consonant blends, knowing these rules provides a foundation upon which more advanced reading skills can be built.
Sound Charts - A Picture Speaks a Thousand Words
Sound charts serve as a handy reference for children, helping them associate each letter or letter combination with a corresponding sound and image. These charts offer a multisensory approach to learning that can greatly assist in memorizing and understanding the phonics alphabet.
Ready, Set, Read!
The journey to becoming a fluent reader can be smooth and enjoyable with the right set of tools and techniques. Phonics provides a structured yet flexible approach to mastering the art of reading. With an array of teaching materials, including sound charts, worksheets, and engaging games, phonics makes learning to read an exciting adventure for children.
For a one-stop solution to all your phonics needs, check out Kiz Phonics Educational Materials. From alphabet songs to complex phonics rules, this platform provides all you need to set your child on the path to becoming an accomplished reader.
In conclusion, the power of phonics in shaping successful readers can't be overstated. The method provides a comprehensive, logical, and engaging way to introduce children to the world of words. Through the strategic use of phonics rules, alphabet recognition, engaging games, and melodious songs, children not only learn to read but also develop a love for reading, setting the stage for a lifelong journey of learning and discovery.
I Want Hard Copies of this Program (Sold Out)
You may choose to instead buy the contents of this website as books and CDs. In that case, you can buy sets of our course from the store. Click on a set to purchase all the courseware. Please note that the contents of the hard copies are the same as the online materials, but without updates. If you would like both online access and books, contact us for discounts.
Pre-K & Kindergarten Books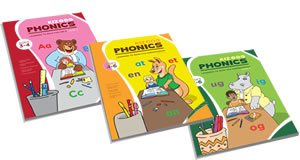 Want hard copies of our products? No problem. You may order our phonics activity books and more from our store - for Preschool & Kindergarten. Each set comes with CDs and the playing card sets and board game.
1st & 2nd Grade Books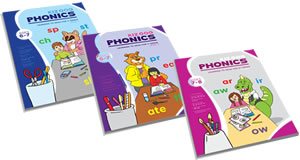 Want hard copies of our products? No problem. You may order our phonics activity books and more from our store - For 1st Grade & 2nd Grade. Each set comes with CDs and the playing card sets and board game.