Phonics Worksheets - By Level
This page was set up so that you can easily find our phonics worksheets by type and level. 
 Register Now to Unlock the Full Wealth of this Site.
Phonics Worksheets in PDF Printouts

 
Phonics worksheets are essential activities for developing early literacy skills in children. It is even more important to have well-designed worksheets such as those here on Kiz Phonics. You also do not want to jump from site to site looking for just the perfect combination of activities to teach a phonics lesson. It's inefficient!
Moreover, you need phonics worksheets in PDF format which means they are ready to print without formatting. That is why we offer high-quality phonics worksheets structured by level – preschool, kindergarten, 1st grade and 2nd grade - with each activity designed to cover a specific letter sound combination. For that, you've come to the right place. Kiz Phonics is your one-stop phonics worksheets site covering A to Z letter sounds, short and long vowel sounds, consonant sounds, digraphs and others. 
Read more
Even before children fully develop the fine motor skills needed to handle a pencil or pen, well designed A to Z letter sound worksheets are needed to lay the foundation for early literacy. Our worksheets mainly introduce children to the beginning sounds of the 26 letters of the alphabet. Thus, we offer 26 worksheets that each focus on a particular letter and its beginning sound, followed by handwriting and letter tracing. When you consider the fact that we present the upper case and lower case letters, children develop the skills to recognize some 52 unique letters and associate them with particular sounds. Three words that begin with each letter sound are included to facilitate the introduction of each sound. 
In between are review worksheets that combine multiple letters and pause to practice what has been learned. As such, our preschool phonics worksheets provide excellent exercises to develop basic phonemic awareness. 
Kindergarten Phonics Worksheets 
We then follow with phonics worksheets for Kindergarten Level 1. At this level, you will find worksheets to practice beginning consonants, introduce short vowels and word families – at, et, an, ed and en. The reading of basic sentences and the recognition of sounds within words is central to the practice. Looking for the mp3 sound files to match each worksheet? We have you covered. Kiz Phonics is the only site with a playlist of all its worksheets organized by level. Our kindergarten level 1 sound files can be played from here. 
Kindergarten Level 2 builds on Level 1 to develop skills in identifying ending consonant sounds. The worksheets also reinforce the critical five short vowel sounds while placing emphasis on the short sounds of 'i', 'o' and 'u'. With the additional short vowels, new word families such as 'ig' as in pig and 'og' as in dog, as well as 'ug' as in bug, help children practice reading and sounding out words with similar sound combinations. At this stage, these worksheets help kindergarteners learn to read basic words and sentences mainly built using short vowel sounds. The goal is to develop their confidence before introducing more complex sound combinations. 
With our grade 1 phonics worksheets, new and complex sound combinations are practiced to step up literacy. The 1st grade level 1 phonics worksheets focus practicing consonant digraphs such as 'sh' as in sheep, 'ch' as in chick, 'ph'  as in photo and 'th' as in think. Recall that digraphs are two letters that make a single sound. 
Our worksheets also help practice S and L blends. S blends combine S with another consonant to read two sounds quickly. Blends are unlike digraphs because two letters retain their individual sounds. Examples of S blends include: 'st' as in stop, 'sl' as in slow, 'sp' as in spider, 'sm' as in small and 'sn' as in snow.  There are also worksheets to practice soft c and soft g. As in the previous levels, every worksheet is accompanied by a sound file, which can be played on the first grade level 1 media playlist here. 
In 1st grade level 2, our phonics worksheets focus on long vowel digraphs such as 'ay' as in play, 'ai' as in train, 'ee' as in green' and 'ea' as in seal. We also introduce more R and L blends. L blends worksheets help practice blends like 'bl' as in black, 'cl' as in clock; meanwhile, R blends phonics worksheets review sounds like 'br' as in brain and 'cr' as in crown. All worksheets practice sounds by allowing children to listen to them first, followed by writing and tracing of words with the sounds. All worksheets under this level are accompanied by sound files which can be played on the first grade level 1 media playlist here.
Phonics worksheets for grade 2 introduce more long vowel digraphs such as 'oo' as in boot' and 'oo' as in cook. Other sounds that may be a little challenging to work with are also reinforced. As such, we offer worksheets on r-controlled vowels. R-controlled vowels such as 'er' as in germs, 'ir' as in bird and 'ur'  as in surf. It gets tricky because we have different letters combining to make the same sound. Other r-controlled vowels such as 'ar' as in car and 'or' as in horse, are less trickly but nonetheless challenging. Then there are those special vowels such as 'ew' as in crew, 'aw' as in crawl and 'ow' as in crow.  As always, Kiz Phonics offers mp3 sound files to match each 2nd grade worksheet found here. 
By the end of this level, you should notice remarkable progress in young learners' literacy skills as children begin to read entire short story books and attempt decoding several unfamiliar words. Congratulations, the children have reached a stage where they increasingly read without assistance. Their confidence grows tremendously and they take interest in reading anything they can lay hands on.  It's like magic. We recommend having a selection of books for children on shelf or library within easy. 
I Want Hard Copies of this Program (Sold Out)
You may choose to instead buy the contents of this website as books and CDs. In that case, you can buy sets of our course from the store. Click on a set to purchase all the courseware. Please note that the contents of the hard copies are the same as the online materials, but without updates. If you would like both online access and books, contact us for discounts.
Pre-K & Kindergarten Books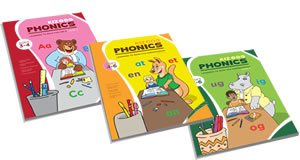 Want hard copies of our products? No problem. You may order our phonics activity books and more from our store - for Preschool & Kindergarten. Each set comes with CDs and the playing card sets and board game.
1st & 2nd Grade Books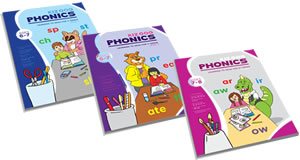 Want hard copies of our products? No problem. You may order our phonics activity books and more from our store - For 1st Grade & 2nd Grade. Each set comes with CDs and the playing card sets and board game.