Phonics Book Sets (Sold Out) 
Buy our books and get a FREE membership!
(Sold Out)Prices below do not apply to large orders! For Bulk Order, Contact Us for Discounts!
Kiz Phonics Learning to Read Program for Children - Course Books. Here are our Phonics Book Sets, which you can choose from. They are suitable for school teachers and home-school parents. If you want a larger order for a school, contact us for discounts.
PreK & Kindergarten Phonics Books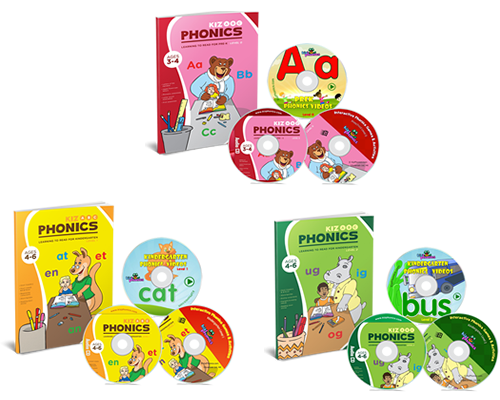 $ 179
167 pages of carefully crafted phonics activities - For PreK & Kindergarten or Absolute Reading Beginners. Learning to read starts here. Shipping is FREE with 1 year FREE membership.
1st & 2nd Grade Phonics Books
$ 174
  The 1st Grade & 2nd Grade series contains 164 pages of carefully designed activities to teach digraphs, blends, long vowels and more. This is suitable for kids between the ages of 6 - 9. It can also serve as a great resource for late reading beginners. 
PreK to 2nd Grade Phonics Books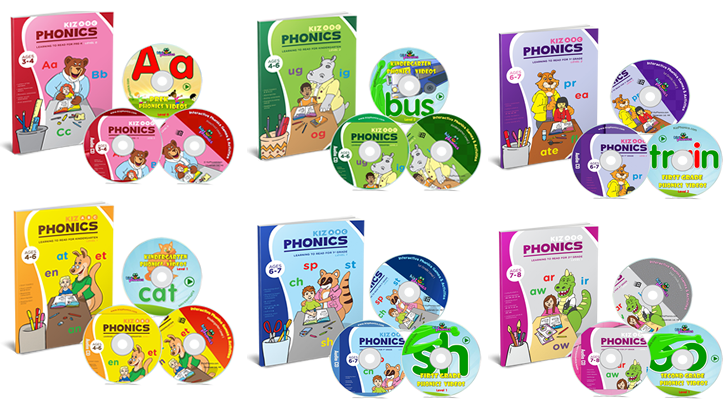 $ 297
First two sets combined. You will get all 6 books & Audio CDs.
Want Customized Buying Plan? Contact Us
For example: "I am a school with over 200 students." Large orders means a significant drop in price.
Please note that there will be no refunds after shipping. If you have any questions about our products, please CONTACT US before you buy.