Kindergarten Level 1 Phonics App (Phonics Kinder 1)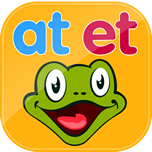 Price:$3.99
Grade:Kindergarten L1
Topic: Phonics
Platform:Apple
Publisher:Kiz Phonics, Eduterials Ltd.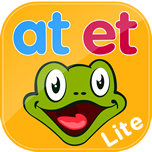 Price:Free
Grade:Kindergarten L1
Topic: Phonics
Platform:Apple
Publisher:Kiz Phonics, Eduterials Ltd.

In this app, children will focus on the short vowel sounds (a, e, i, o, u). Special attention will be given to short 'a' & 'e'. They will learn to blend and read words from the word families at, an, am, ap, ack,  en, et & est. The app introduces key beginning consonant sounds which are also important in learning to read words and sentences. This is the first step in learning to blend and read words and sentences. There are decodable video stories which are meant to help learners see the use of these word families in sentences while inexplicitly introducing a few high frequency sight words. The videos and games are part of our Kindergarten Level 1 phonics program on https://www.kizphonics.com/phonics-program/kindergarten-level-1/

This app works great with our KIZ PHONICS BOOK 2 for Kindergarten Level1. It is a great complementary product.

VIDEOS: First, children will watch and learn words with the beginning and middle short vowel sounds a, e, i, o, u in 5 videos. Then they will focus on word families ack, am, an, at, ap, et, en, est in another 6 videos. These word families videos will show them how words are blended and read. Then there are 16 other videos which focus on beginning consonants b, c, d, f, g, h, j, k, l, m, n, p, r, t, v, w.

There are 3 short stories aimed at extending practice of short 'a' & 'e' with related word families.

GAMES: Every video is accompanied by a drag and drop activity or two to help practice what was taught in the videos. These games will ensure that learners have enough practice to learn and master the core concepts of this level. At the end, your child will be blending consonants and vowel word families to read simple words like cat, cap, back, sat, map, vet, pet, wet, ten etc.

The app furthers the development of early reading skills based on the proven methods of phonics.

Reading specialists were behind the development of the app, making sure pronunciation of letter sounds were accurate. You will hear the letter sounds as they are supposed to be in a natural native English accent.  A good beginning is essential at this stage.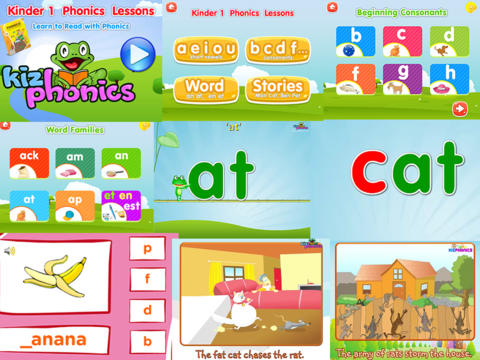 https://www.kizphonics.com/wp-content/uploads/2014/01/l2.png
152
152
KizPhonics
https://www.kizphonics.com/wp-content/uploads/2014/06/kizphonics-logo.png
KizPhonics
2014-01-02 06:20:11
2020-04-21 13:23:19
Kindergarten Level 1 Phonics App (Phonics Kinder 1)